Legal Information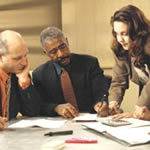 Test Fusion Systems Corp. (herein Test Fusion) is the sole owner of the information collected on this Web site. We only gather information we need to serve you better and will not - without your consent, - sell, share, or rent this information to others in ways different from what is disclosed in this statement except in cases where in good faith we believe that the law requires us to do so, it is necessary to protect Test Fusion's rights and/or property, or if circumstances necessitate acting to protect the personal safety of staff or of the public.

Test Fusion does not make any kind of warranty, express or implied, about software or products. Usage, and/or providing the availability of use, constitutes acceptance and responsibility of any events that may occur. This includes any damage of, or loss of, data, software, and/or hardware. This also includes loss of property, business profits, information, or any other pecuniary loss, or business interruption, or harm to persons arising out the of use or misuse of the software, even if we have been advised of the possibility of such damages.

Any product names or names are registered trademarks , trademarks or service marks are of their respective holders.


Copyright by Test Fusion Systems