Co-Operative Education at Test Fusion Systems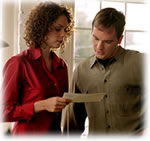 Test Fusion Systems offers co-op students a comprehensive and intensive co-op experience in their chosen field. Our tongue in cheek motto is "there are no coffee gophers here!"

Students are screened using a traditional "face to face" interview combined with a practical task challenge. Once selected students experience an orientation and sign on process prior to an intensive 3 week training program. The goal of the training program is to provide students with the core skills they will need to complete the projects and duties they will be assigned to. Team work, coaching, and mentoring are a big part of this process. Once training is complete the students are assigned to an actual portfolio of responsibilities or a "to market" project.
Formal feedback and coaching takes place in the form of mid-point evaluations and final evaluations that are completed by the students about themselves, their peers and their managers. At the end of the co-op placement Test Fusion provides a letter of experience, resume review by HR, and an interview skills workshop. Students are encouraged to form a "portfolio" that highlights the skills they have put into practice over their placement. Our co-op positions are volunteer, however, we offer an honourarium upon successful completion of the co-op hours.
We have had a very positive response from the students who have been through this process. They have been impressed with the improvement in their skills and their level of involvement in the company. We have accepted students from several colleges including: Sheridan, Conestoga, Mohawk and Humber.
Previous co-op student testimonials:
"Real great experience learned a whole lot, and a very friendly environment." -David Hermengildo

"Learn alot, then you need to learn more."
-Jeff Santos

"You learn to expect that you won't know how to do it, then you start breaking it down and start working on it."
-Chris Saville
Test Fusion Systems will have more co-op placement opportunities in the future. We would like to thank everyone that applied.